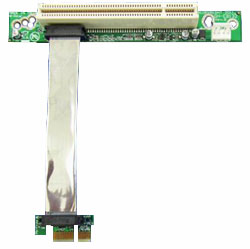 ARC1-EB132-C7(PCIe x1 to PCI)
ARC1-EB132-C7G1(mPCIe to PCI)

1-slot PCIe x1(or mPCIe) male to one PCI-32 female slot, bridge-based active riser card with 9cm or 13cm flexible ribbon cable.
Re-direct the riser card to face over the board for use in slim case.

Technical Details:
One PCI 32bit/5V female connector




One PCIE x1 or mPCIe male connector.

Flexible cable length: 9cm, 13cm ribbon EMI shielded.




One FDD-type +12V male power connector(and a standby -12V on riser board).



Ordering information:
1) ARC1-EB132-C7 (PCIe x1 to 1-slot PCI w/9cm ribbon)
2) ARC1-EB132-C13 (PCIe x1 to 1-slot PCI w/13cm ribbon)
3) ARC1-EB132-C7G1(mPCIe to 1-slot PCI w/9cm ribbon)
4) ARC1-EB132-C13G1(mPCIe to 1-slot PCI w/13cm ribbon)