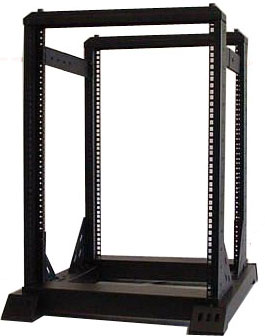 ARK-2202CLM-xx (22" Depth)
ARK-2203CLM-xx (28" Depth)

Heavy-Duty Castors x4. 15U/20U/36U/40U/45U
4-Posts 19" Steel structure Open Frame, D=22"(750mm) or D=28"(900mm). From 15U to 45U:

Overall Width: base to base = 22 1/8", post to post =20 1/8"

Overall Depth: base to base = 35.5", post to post =28.5"

Overall Height: from 30.75"(15U) to 83.25"(45U)

Hole to hole width: 19", Maximum equipment' width: 17 11/16"

Useable height: from 26.25"(15U) to 78.75"(45U)

For slide rail: brackets length must be less than 22.5"

Square holes mounting angle w/ 4 wheel castors,
very economic, flexible, versatile, durable, elegant outstanding Efficiency.