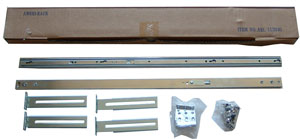 ASL-1U2603CH
(Chenbro 84H311710-001)
1U height 3-sections Solid-Bearing Slide Rail, 26"(L) x 1.06"(27mmH) x 0.295"(7.16mm Thickness). Lock open and quick release latch for easy chassis removal. Chenbro P/N 84H311710-001
More features:

1. Ultra-thin 7.16mm (0.295") slide thickness.
2. W/easy-mount extender brackets 4x, maximal 33" extension.
3. For max 435mm width of package (opening of cabinet 451mm)
4. Load Rating 55 lbs. Cycle Test: 2500 times. Static Test; 3 Hrs. 24 hrs deflection: within 10mm. RoHS compliant finish(Chrome Trio Zinc plating)

For Chenbro RM116 Series, RM117xx Series, RM131 etc.