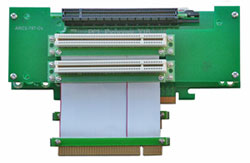 ARC2-797-Cx

2U 3-slots PCIE/PCI combo riser card. supporting 2-slots PCI-32bit/5V and 1-slot PCIe x16 on motherboard slot-7.

The top PCIe x16 riser slot is linked to the PCIE goldfingers and connects to the motherboard PCIex16 slot-7. The middle and bottom PCI-32 riser slots, all independent connections, linked with flex cable and connect to the motherboard PCI-32 slots.

For expansion of 2-slots PCI-32 independent connection and one-slot PCIe x16 on motherboard PCIe x16 slot-7, such as Intel DG33,D965 Series, D945, D925, D915 etc.(Use ARC2-797-C5).