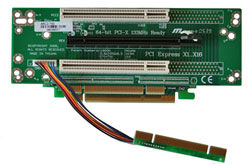 ARC2-790

2U PCI/PCIE combo riser card, supporting 2-slots PCI-32bit and 1-slot PCI-E x16 on motherboard slot-7.

The middle PCI-E x16 riser slot linked with a short PCI-E connector attached in the back of the riser card and is connected to the PCIe x16 board slot-7.

The bottom PCI-32 (main) riser slot linked with another goldfingers is connected to the board PCI-32 slot-6.The top PCI-32 riser slot (shared) linked w/8-wires paddle link is connected to the nearby motherboard PCI-32.

For motherboards with PCIe x16 on board slot7 and two PCI on board slot6 and nearby board slot.