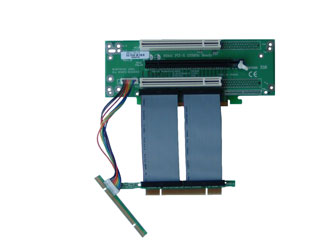 ARC2-740-Cx


2U PCI/PCIe Combo Riser Card w/custom length ribbon cable, supporting 2slots PCI-32 bit/5V/3.3V and 1-slot PCI-Express x16 on board slot6 and 2-slots PCI-32 on nearby slots.

The middle PCIe riser slot is linked with the goldfingers and sit to motherboard slot6(PCIe x16).

For Asus P5 Series (P5GD2 use #ARC2-740-C5, P5RD1 use #ARC2-740-C7),Tyan S2866 (740-C7), ABIT AA8-DuraMax, Supermicro X6DVL Series (use ARC2-740-C9), PDSLA/PDSLE (use ARC2-740-C5), Giga-byte GA-81915 Series, GA-8ANXP-D, GA-8GPNXP Duo (use ARC2-740-C9) etc.