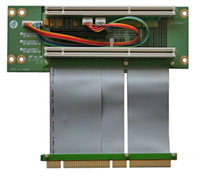 ARC2-736B-Cx

2U PCI/PCI-E combo riser card, supporting 1-slot PCIe x8 + 2-slots PCIX-64bit/3.3V w/custom length flex cable(7cm, 9cm and 11cm)and pin-to-pin direct-soldered connector to support higher PCI bus speed.

The middle PCIe x8 riser slot islinked with the goldfingers and sit to the motherboard PCIe x8 slot-6.an completely indepedent PCI-Express connection.

For expansion of PCIe x8 on motherboard slot-6 and 2-slots PCIX-64 same bus connection, such as Supermicro X6DHE-G2, X6DH8-G etc.