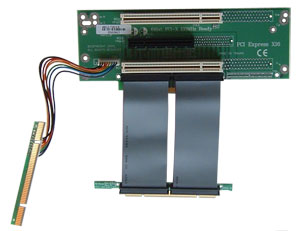 ARC2-730-Cx

2U PCI/PCI-E combo riser card, supporting 1*PCIe x8 + 2*PCI-32bit/33MHz 5V/3.3V w/custom length flex cable.

The middle PCIe x8 riser connector linked with the goldfingers sits to the motherboard PCIe x8 slot-6,an completely indepedent PCI-Express connection.

The top PCI-32 riser slot (full) linked with a custom flex cable is connected to the nearby motherboard PC-32 5V/3.3V slot, another completely independent PCI connection. The bottom PCI-32 riser slot(share) linked w/a 8-wires paddle link is connected to the next PCI-32 5V/3.3V slot.

For 1-slot PCIe expansion on motherboard PCIE x8 slot-6 and 2-slots PCI-32 5V/3.3V expansions on motherboard PCI/PCIX slots such as Intel SE7230NH1-E ( use ARC2-730-C9).