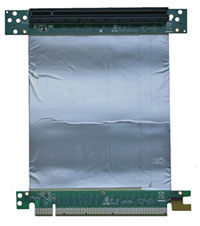 ARC1-PELX16J1-C10
1-slot PCI Express X16 flexible riser card, x16 right-angled female to male connector, with 10cm(4") ribbon cable(or custom cable length up to 12"), male connector can be configured to x16, x8 ,x4 or x1. Re-direct the female connector to face over the motherboard. PCIe 2.0 compatible

Specifications:
One PCI Express X16 slot.
Flexible cable length: 10cm(4")
Right-angled female connector to face way or over the motherboard.

Ordering information:

1) ARC1-PELX16J1-C7( x16 female to x16 male, 7cm ribbon)
2) ARC1-PELX16J1-C10(X16female to x16male, 10cm ribbon)
3) ARC1-PELX16J1-Cx(x16 female to x16 male, custom length ribbon)