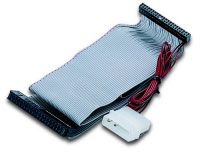 APA-HD44C30 (30cm ribbon cable)
APA-HD44C10 (10cm ribbon cable)
APA-HD44C40 (40cm ribbon cable)

Adapter for 2.5"IDE HDD (44pins) to direct connect to a 40pins IDE port on motherboard without using a standard IDE cable.

Features:
one 44-pin female, 2.00mm pitch connector to 2.5" HDD
one 40-pin female, 2.54mm pitch connector to motherboard IDE port
one Molex 4 pin power connector. flat cable lengths: 10cm,30cm,40cm.