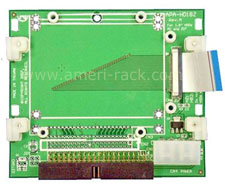 APA-HD18Z

Adapter for 1.8" ZIF to 40pins IDE. For all brands of 1.8" ZIF HDD(Toshiba, Hitachi, Fujitsu,Samsung mechanical or SanDisk SSD)mounted in a 3.5" drive bay form factor. Kit includes two FFC cables(short cable t=0.30mm for LIF and long cable t=0.20mm for ZIF). Please note all 1.8" ZIF hard drives default in master mode.

Features:
Holds one 1.8" ZIF hard drive.
Transform into 3.5 inch HDD form factor.
LED activity indicator.
Dimensions: 102 x 89 x 12 (mm).