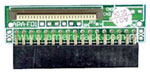 APA-FD1-R

FDD adapter. W/ FFC cable to connect to the motherboard slim FDD port(Commell LV-671 series Mini-ITX boards) and the female header of the adapter to the standard FDD.

Specifications:
Fully compatible with standard floppy drive.

Three-mode fully supported.

One female 34-pin connector for standard floppy drive.

One slim type connector for flex cable.

Optional 30cm and 50cm FFC cable.