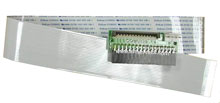 APA-FD1-C30

FDD Adapter, w/ female FDD header direct plug to the FDD port on motherboard and connect thru long FCC cable (30 & 50 cm) to a slim FDD.
Specifications:
Fully compatible with slim floppy drive.

Three-mode fully supported.

One female 34-pin connector for FDC on motherboard.

One FDD-type power connector.

With 30cm flexible cable.